annsmarty on Thu, 2014-04-10 12:27.
6 comments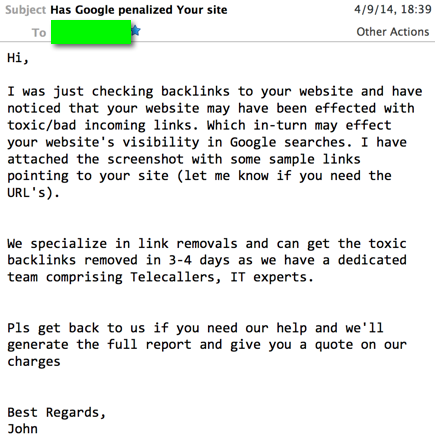 No matter what my personal stance is on link removal mess we are forced to be dealing with now, I can understand when it gets useful: A naughty website owner gets hit by a manual penalty or a filter and wants to get his/her records cleaned up. In this scenario, that website owner goes to a legit company and asks for help.
What if a link removal business gets pro-active with pitching their services and starts coming to website owners with statements like this one "Google may have penalized your site"?
With all the FUD around link penalties that is flourishing right now, I can imagine how this approach may be highly affective!
But if you think about this for a minute: This is evil and dangerous phenomenon that may get out of control. How many innocent and clueless website owners (who may already know you CANNOT be 100% innocent nowadays and one day you will get hit) will be freaked out to receive such an email!?